Our Full Review and Experience with Z-Grill
There isn't much better than sitting out on the deck on college game day, firing up the grill and cooking your favorite meats. I've always been a gas grill guy, so when Z-Grills reached out to us and asked for a full feature product review on their products, I jumped at the opportunity. I knew I'd be the perfect editor for the test since I had absolutely zero experience with a pellet grill. Here's our full review of the Z-Grill.
First, let's learn more what a pellet grill is, and how they work.
Pellet grills are outdoor cookers that combine elements of charcoal smokers, gas grills, and kitchen ovens. They are powered by electricity and fuel by hardwood pellets that smoke foods at constant temperatures using a fire fed by wood pellets, with its temperature controlled by the volume of pellets burned. 100% all-natural hardwood pellets are their fuel, allowing them to provide direct or indirect heat. With a wide temperature range, a pellet grill smoker can help you cook up the finest ribs, briskets, or foods that begin with other letters using different cooking methods even if you're not a pro grill master or an expert.
The wood pellets are poured into a container called a hopper. The pellets are moved by a rotating auger into a fire pot that is powered by electricity. In the fire pot, a hot rod ignites the pellets, causing them to burn and produce heat and smoke. Next, the induction fan brings in air to aid in combustion. Above the fire pot, a heat baffle rests to disperse any direct heat evenly throughout the grill rather than allowing it to burn your food. A grease drip tray sits above that to catch any grease drippings and further disperse the heat. Finally, the induction fan circulates the smoke and heat from the fire pot throughout the grill chamber, cooking your food via convection-style cooking.
What's in a wood pellet?
Wood pellets are uniquely designed for fueling pellet grills. Most wood pellets are formed from 100% all-natural wood dried, ground, and dyed into sawdust. The dust is then exposed to extreme heat to create closely and neatly packed together pellets coated and held together with the lignin. Wood pellets are referred to as the easiest fuel to use. They give great flavor, burns cleanly, and produces little ash. This means cleanup is easy.
If you ask how long do the pellets last in a pellet grill? Under normal circumstances, a pellet grill will use about 1/2 pound of pellets per hour on the smoke setting and 2-1/2 pounds on high.
A 22 lbs bag of pellets will last 10-25 hours depending on the cooking temperatures. Cold and windy outdoor conditions will also increase the amount of wood pellets used due to more heat loss, and the grilling surface also matters.
So, let's get down to the cook!
My first attempt was simple. Chicken breasts and some grilled asparagus. One thing I learned quick; the pellet grill does not operate like a gas grill. You start the grill with the lib up, and in smoke position on the dial. Once you see smoke, you can close the lid, sit the temperature gauge to your desired temperature of choice, and let the grill heat up to the set temperature. Once the grill is ready, you can add in your meats and veggies.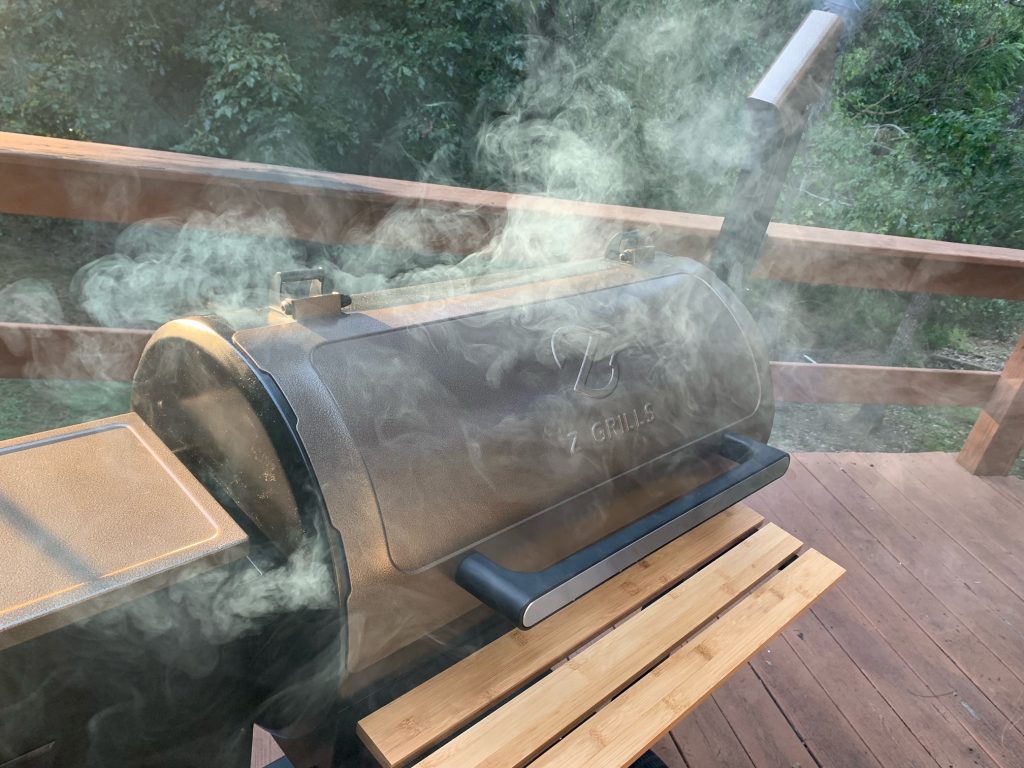 One thing I have always used when grilling is an electric thermometer. This little gadget is a must have when it comes to pellet grill cooking. As a matter of fact, it wouldn't hurt to have two of them, for when you are cooking large shoulders or ribs.
To be an avid pellet grill master, you need some patience, and you need to really enjoy the art of grilling. This is not a quick cooking machine. Although it can cook in a reasonable amount of time, the pellet grill is designed for the serious meat artist and should be viewed, in my opinion, as a tool in your meat cooking arsenal. Will I get rid of my gas grill? No. Is the pellet grill a perfect addition? You bet it is.
What I Liked about the Z-Grill
As with anything, you can spend too much and not enough. The Z-Grill will not break the bank, and they offer a high-quality product that from box opening to cooking was an easy one hour set up. I love the light weight of the grill, and the solid construction. Everything on this grill seems to work well and serve its purpose to perfection.
Since I was a first-time pellet grill user, Z-Grills easy to follow instructions and build kit, made putting my grill together quick and easy…and fun.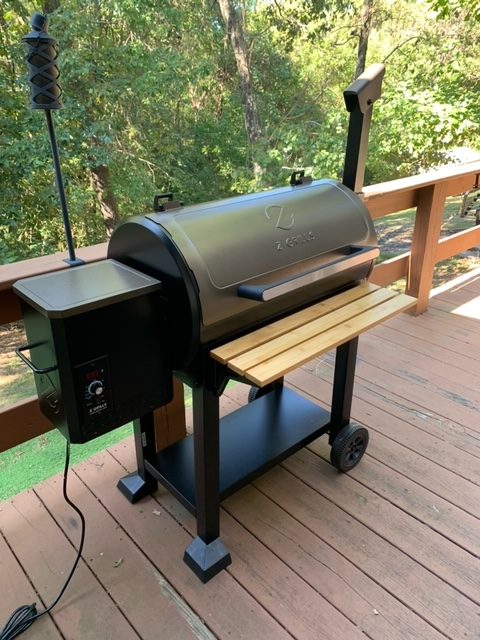 Z-Grill's claim to fame is their blind box special. At first this kind of confused me honestly. Basically, you buy the blind box special for set amount of money, usually $399. You don't know what Grill you will be getting, but in my case, I got one that was $599 value priced. So, I came out on top.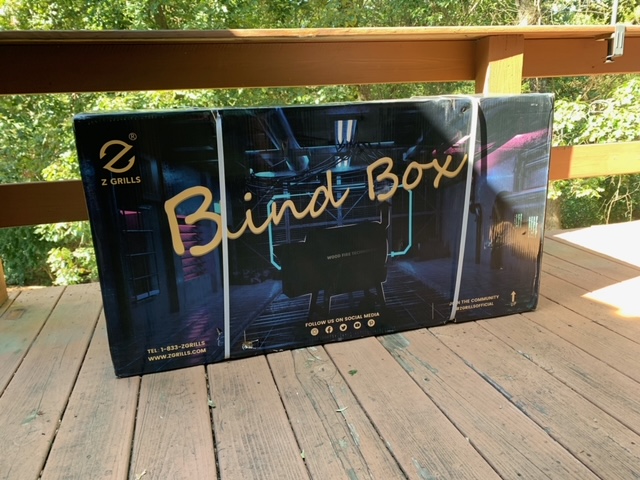 For me, I think I would rather be for sure, than live dangerously, but then again, a little risk might just pay off.
What I would change about the Z-Grill
Not much. Honestly, for the money, you can't beat it. With some wood pellet grills going for as much as $800-$1000 price points, I really can't see anything less on the Z-Grill from as little as $399.
One thing I would like to see is a larger storage wood area on the front of the grill. The current one is nice, but it doesn't leave you much room to store your tools and your spices or rubs. I am considering building a small area around mine to make room for the extras.
All and all, I'd say the Z-Grill is probably one of the nicest grills I have ever used. Adding the ease of use to the shear fact that it was only $399, you just can't go wrong. It's light weight, easy to move, easy to start, easy to grill and easy to shut down.
Now go get to grilling! For More Information or to Order visit www.zgrills.com