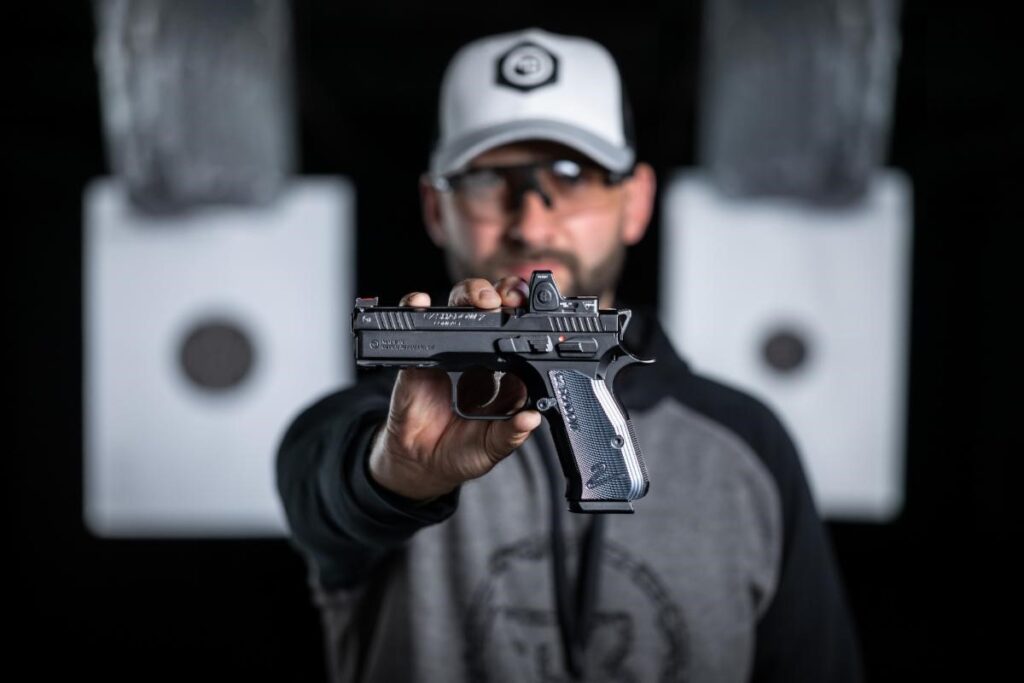 CZ SHADOW 2 COMPACT – A Smaller, Lighter, Optics-Ready DA/SA Competition Pistol
The new CZ SHADOW 2 COMPACT is the latest member in the CZ family of high-performance pistols. Designed with the same instinctive fit as CZ's full-size flagship sport pistol – the
CZ SHADOW 2 – the CZ SHADOW 2 COMPACT has been specifically engineered for shooters who want a top-tier, highly accurate pistol that is easier to handle and carry. And as with all models in the CZ SHADOW 2 series, it is constructed from advanced materials and comes with match-ready features.
The CZ SHADOW 2 COMPACT retains the key, competition-proven features, accuracy, ergonomics, and handling that made its big brother so popular among elite sport shooters and contributed to its status as a world championship firearm, with numerous world championship titles under its belt in the IPSC Production and Production Optics divisions. The overall size of the CZ SHADOW 2 COMPACT is 7.5 (L) × 1.4 (W) × 5.4 (H) inches. A light and strong forged 7075 aluminum frame shaves precious ounces off the total weight, bringing its weight down to 2 lbs. As a result, it's the perfect choice for all-day carry and concealed carry.
Like the full-size CZ SHADOW 2, it features butter smooth trigger pull (single action 3.4
pounds; double action 10.3 pounds) and shortened reset, allowing for quick and accurate
follow-up shots. It comes with a 4-inch barrel that glides quickly from holsters while still
achieving impressive ballistic performance; its magazine holds 15 rounds. Racking the CZ SHADOW 2 COMPACT's slide from various positions is easy and intuitive, thanks to deep-cut front and rear cocking serrations. The rear of the slide is equipped with an extremely low and robust mounting interface for the attachment of a red dot sight. In fact, its mounting interface is identical to what is found on the CZ SHADOW 2 OR model and is compatible with the same mounting plates. Shooters who prefer running standard sights will appreciate its high-visibility fiber optic front sight for aiming in all lighting conditions and height-adjustable rear sight for precision.
Right- and left-handed shooters are equally at home with its low-profile ambidextrous
manual safety and reduced height magazine release button that can be swapped from side-to-side. The CZ SHADOW 2 COMPACT also includes other features that are shared with the full-size CZ SHADOW 2, such as a spacious trigger guard, checkered grip and dust cover with accessory rail for mounting lights and other devices.
The new CZ SHADOW 2 COMPACT is a dream come true for shooters who have been waiting for a light, compact pistol with all of the winning features found in the CZ SHADOW 2 series.
CZ SHADOW 2 COMPACT Features:
·     Forged 7075 aluminum frame is compact and durable
·     Smooth trigger pull and shortened reset
·     Exceptionally low and secure OR (Optics-Ready) interface
·     Fiber optic front sight for extreme visibility and increased shooting accuracy
·     Height adjustable rear sight for easy aiming
·     Low-profile ambidextrous manual safety
·     Interchangeable low-profile magazine release button
CZ SHADOW 2 COMPACT Specifications:
·     Caliber: 9 × 19
·     Magazine Capacity: 15
·     Weight with empty magazine: 30 oz. / 1.8 lbs (870 ±5 g)
·     Overall Length: 7.5 in (191 mm)
·     Width: 1.4 in (35 mm)
·     Height: 5.4 in (138 mm)
·     Barrel Length: 4 in (102 mm)
·     Barrel: Cold Hammer Forged
·     Sights: Fiber Optic Front, Checkered Rear
·     Action: DA/SA
·     Trigger Pull: SA 3.4, DA 10.3 lbs (SA 15, DA 46 N)
·     Trigger Travel: SA 0.11, DA 0.19 in (SA 3–4, DA 5 mm)
·     Trigger Reset: 0.11–0.15 in (3–4 mm)
·     Frame: Aluminum Alloy
·     Grips: Aluminum
·     Safety: Manual Safety, Safety Notch On The Hammer
With the release of CZ's new CZ SHADOW 2 COMPACT, shooters around the world now have access to the new benchmark in pure performance for the compact pistol category.
Visit the CZ SHADOW 2 COMPACT website: https://shadow2.czub.cz/shadow2compact/
Ceska zbrojovka a.s. (CZ) is a Czech manufacturer of precision-engineered commercial and military firearms that are exported to more than 100 countries around the world. Founded in 1936, it initially focused on the supply of firearms for domestic and international armed forces. Over the years, it gradually extended its portfolio with a wide range of domestic firearms for hunting, sport, and hobby shooting. Since 2022, CZ has been one of the key pillars of Colt CZ Group SE.
| | |
| --- | --- |
| For more information, please visit  | |